Recruitment automation software enables talent acquisition teams to set up workflows that eliminate many manual tasks and streamline their recruiting and hiring processes.
One specific facet of advanced recruiting and hiring automation solutions that helps TA teams provide a consistently high-quality candidate experience for job seekers is the automation of some of their candidate engagement messaging.
Sending personalized, timely emails with one's employer branding front and center (more on this shortly) via rules-based nurture campaigns helps many talent teams effectively engage and advance qualified candidates.
Staying in touch with prospects with automated messages throughout the entire recruitment process — from initial outreach, to interview-scheduling, to assessment requests — is how Lever customers build scalable, high-converting candidate engagement strategies.
Our 2022 Talent Benchmarks Report found LeverTRM users who send at least three automated emails in their candidate nurture campaigns saw an average response rate of 356% compared to campaigns with just one email.
Making potential candidates feel satisfied with your recruitment process — whether or not they are ultimately hired — is an important task today's top TA teams prioritize.
You can achieve this goal and ensure your candidate sourcing and nurturing leads to increasingly improving conversion rates through the use of recruitment automation.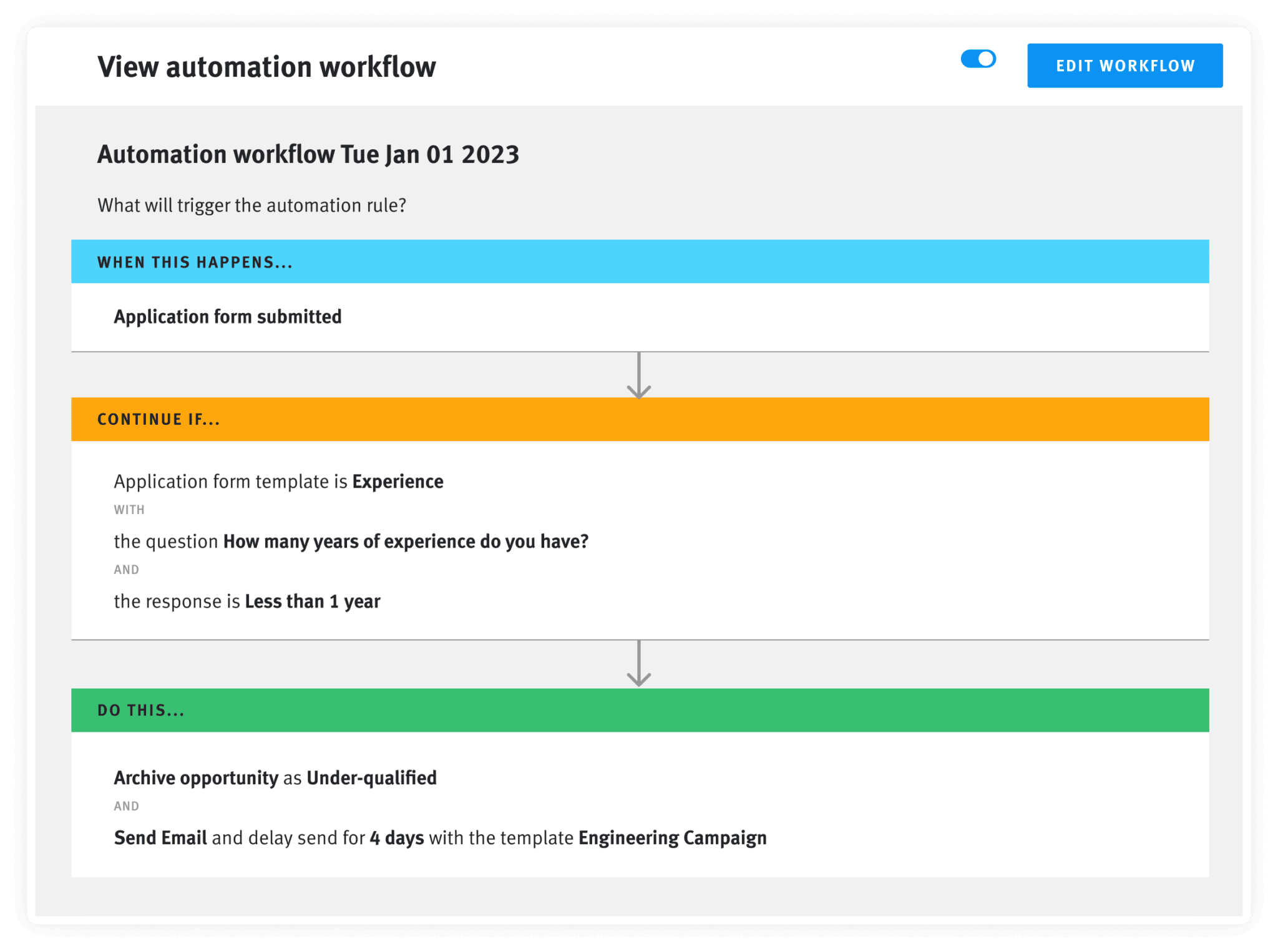 How talent acquisition teams benefit from advanced recruitment automation software
"Recruitment automation software introduces far greater efficiencies for recruiting organizations today," said Lever Sr. Product Marketing Manager Roy Reif.
"The more day-to-day responsibilities talent leaders and specialists automate, the more time they can allocate to other daily activities and long-term objectives, like achieving their pipeline and headcount growth goals and helping their orgs scale as desired," Roy added.
Candidate relationship management (CRM) is recruiting teams' primary focus today.
Their efforts to build and maintain relationships with job seekers means they arguably have the most to gain from recruitment automation software compared to other TA team members.
But automation technology also helps other key hiring stakeholders enhance their work.
Consider how TA pros and hiring team members who use Automation Hub and Visual Insights in LeverTRM benefit from our recruitment automation functionality:
Recruiters can set up rules that auto-tag candidates based on predefined criteria (e.g., "Job Applications from LinkedIn," "Meets Experience Requirements"). This prevents recruiters from having to manually assign labels to each prospect added to their talent pool.
Talent operations managers can set up automated recurring reports using Lever's schedule-and-send functionality in Visual Insights. This enables ops managers to send TA performance updates to business leaders without having to manually build reports in spreadsheets.
Hiring managers can automatically send requests to candidates to self-schedule an interview via an Easy Book link in nurture emails. The days and times that populate on this Easy Book page align with interviewers' availability (LeverTRM syncs with their work calendars).
"Setting up automation workflows like these doesn't require any coding or technical expertise for Lever customers," said Roy. "Automation Hub is intuitive and enables any TA team member to set up triggers and rules that frees up valuable time in a matter of minutes."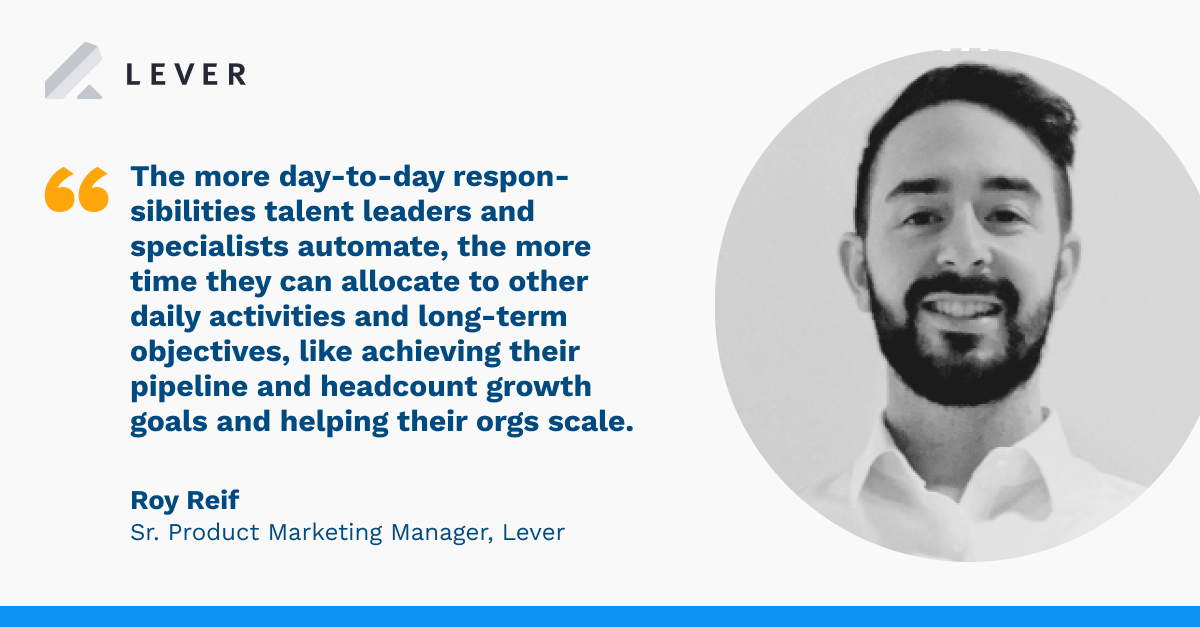 2 common recruitment automation use cases that can enhance your candidate engagement
An increasingly implemented use case for recruitment automation software by today's top talent acquisition teams is to boost their candidate engagement effectiveness.
Manual recruitment marketing tasks like posting job ads on social media and sharing updates on the hiring decision-making process and timeline will never go away.
However, automated messaging can now supplant some of TA specialists' manual outreach.
Here are two common ways talent teams with LeverTRM use our suite's recruitment automation capabilities to mechanize and scale their candidate communications.
1) Deliver bulk messages to new and currently engaged candidates
Personalized nurture messaging tailored to individual passive candidates is a proven way to get these prospects to want to learn more about one's company and open roles.
But, many mid-market and enterprise recruiters need to scale their candidate engagement due to the high volume of talent they typically have to engage to fill job openings.
LeverTRM users can scale their outreach with our ATS + CRM solution's bulk-emailing functionality. The built-in recruitment automation feature allows recruiters to:
Assign up to 50 candidates in their database to an active opportunity
Create a semi-personalized nurture email (or email sequence with multiple touchpoints) intended to engage (or, perhaps in the case of some prospects, reengage) for an open role
Send the initial email to all candidates added to the opportunity in question
Rules can then be created for subsequent emails. For example, triggers can be created so only prospects who didn't open the initial nurture email get a follow-up message.
Similarly, recruiters can remove a candidate from a given campaign if they replied to the first email or self-scheduled an interview through an Easy Book link featured in that email.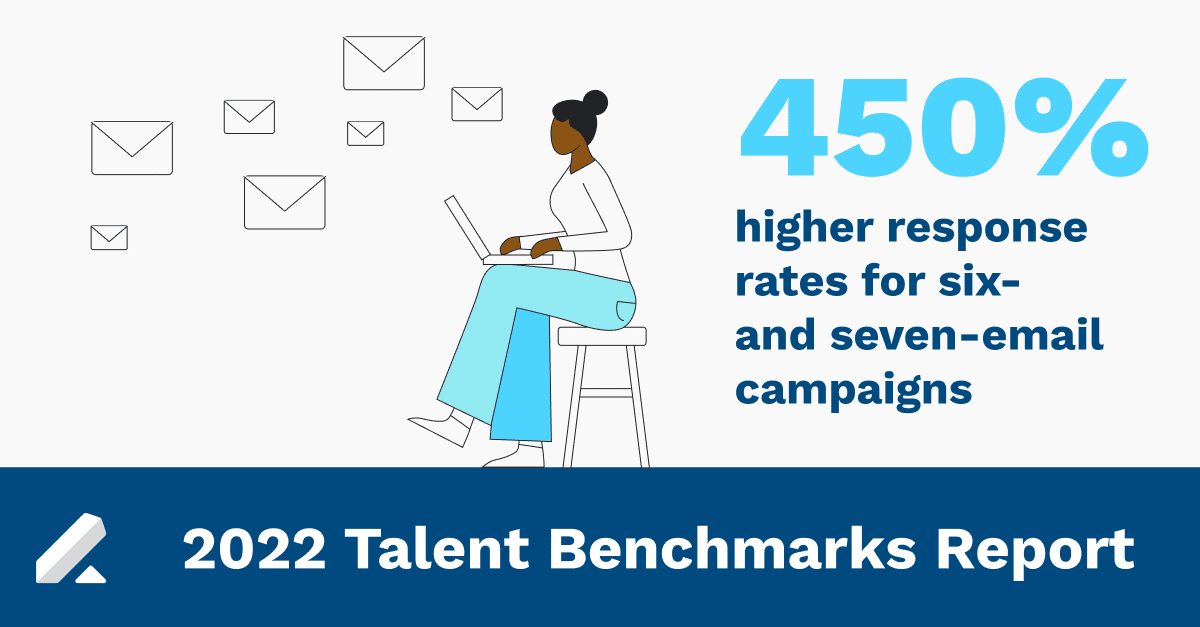 2) Share brand updates with archived candidates with an email newsletter
Not every candidate you add to an automated nurture campaign will move into the recruitment process. Many prospects won't even open or reply to your email.
But, hope isn't entirely lost with these potential candidates.
LeverTRM users know they can simply archive unengaged prospects and resurface them down the line should another role for which the may be an ideal fit opens up.
Until that time comes, recruiters with our TA suite can set up a newsletter nurture and play the "long game" with their candidate engagement and conversion efforts.
They feature company updates (e.g., new round of investment), upcoming events their business is hosting or sponsoring, recently published blog posts and related high-level news and info in these automated newsletter nurtures.
The point is our recruitment software enables these talent teams to connect with prospects who — while "cold" now — could warm up in the future (i.e., apply for another role or reply to a nurture email wanting to learn more if there are any new openings of possible interest).
"You never know when a candidate who has been in your system for months or even years could reemerge as an opportunity again for one or more roles," said Roy.
"Monthly or quarterly newsletters you can bulk-send to cold prospects enables you to stay top of mind without coming across as aggressive (or annoying)," Roy added.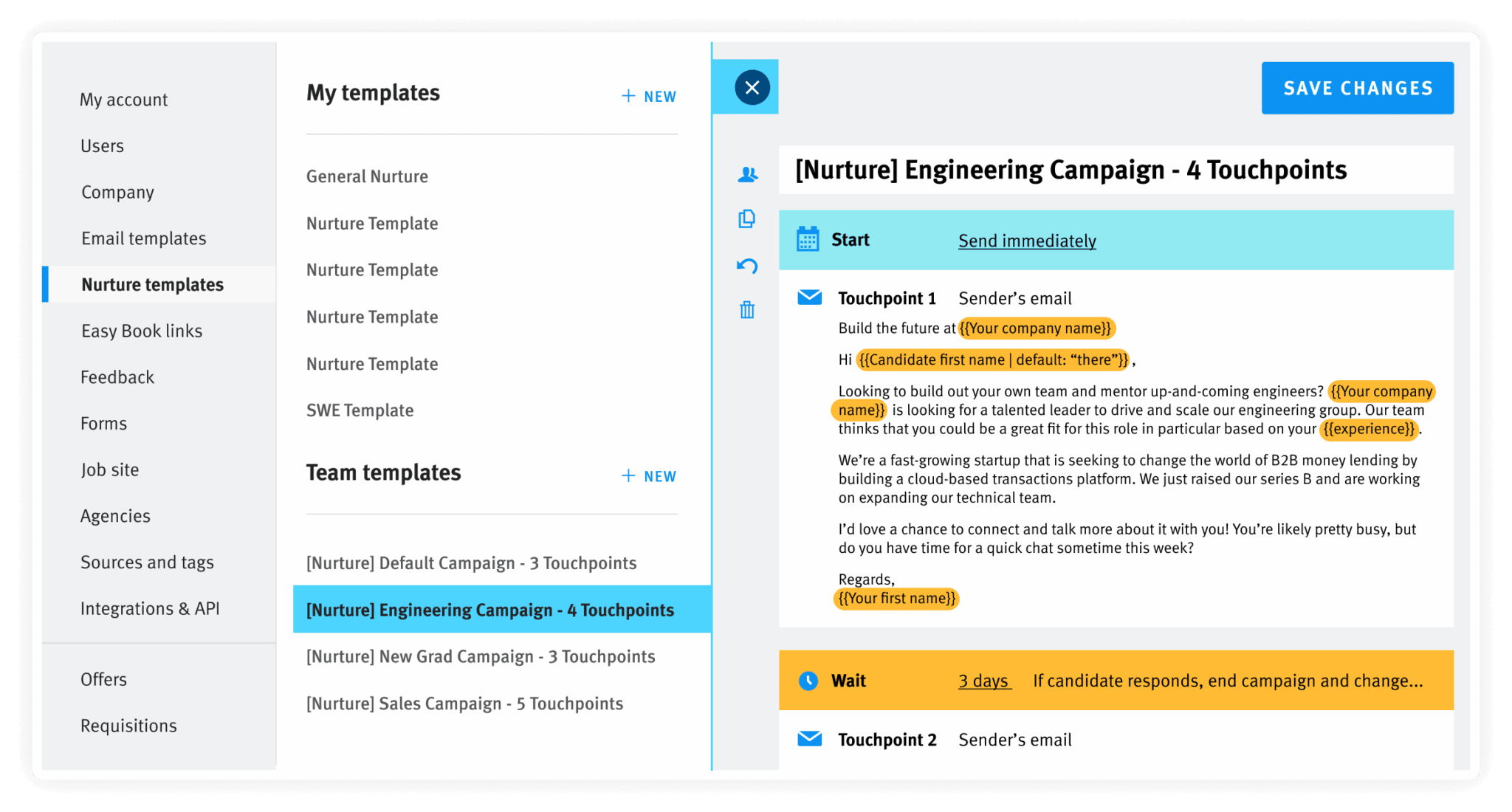 Incorporating your employer brand visuals and messaging in candidate engagement collateral
One important "pre-task" before leveraging recruitment automation to augment your candidate engagement is to ensure your employer brand is accurately and effectively embedded in your nurture campaign email templates.
Converting a cold candidate into a warm prospect tied to a specific opportunity (a.k.a. an open position you are assigned by your TA leader to fill) is already hard enough.
This goal is even more difficult to achieve when you send non-branded, plain-text nurture emails with none of your employer brand messaging and visuals aren't incorporated.
"Candidates' perception of your business can come from your site and profiles on popular job boards and career communities," said Roy. "However, many prospects also judge brands based on the information, messaging and visuals featured in their nurture emails."
Regarding the latter, it's vital to incorporate your visual brand aesthetic into all candidate nurture email templates. This includes your primary font, color scheme and custom graphics used across your site and in all public-facing assets, like display ads and YouTube videos.
LeverTRM enables recruiters to create a fully branded email experience that showcases their employer brand, add compelling multimedia (e.g., GIFs and images of existing employees) and helps them stand out from other talent teams' nurture outreach that doesn't incorporate branding elements (and, thus, looks blasé).
You also need to provide insight into your company culture, use your proper brand "voice" and incorporate social proof (e.g., links to "About Us" or "Life at [Your Company Name]" pages) to connect with and convert candidates.
But, don't downplay the importance of infusing your visual brand in candidate engagement collateral — including nurture campaign emails — to engage and advance passive prospects you think are strong fits for open roles.
Discover how Lever's built-in recruitment automation capabilities can strengthen and streamline your talent team's candidate engagement approach. Talk with a Lever rep today.