As HR tech expert Meghan M. Biro wrote for Forbes, many companies (finally) recognize the value of internal recruitment. More to the point, they understand "there are strong indicators that promotions are key to retention" and keeping top performers satisfied.
Whether you have a full-fledged internal recruiting strategy in place for your business or not, it's evident turning to internal candidates (i.e., your existing workforce) to fill open and future job openings — in addition to exploring external candidates — is how you can close requisitions quickly and efficiently and contribute to business growth.
That includes current team members' engagement regarding their desired career paths within your organization to gauge their interest in a lateral or upward move.
What is internal recruitment?
Let's take a step back and explore what exactly the internal recruitment method involves.
Internal recruitment is a kind of employee engagement. It entails the talent team working with HR and hiring managers to determine what, if any, internal job candidates exist.
They seek out employees who can help fill (or backfill) key roles, based on their expertise and experience. Or, if no such person can be found, they create a shortlist of employees who could thrive in a given role after some internal talent development and training.
It's these non-TA hiring stakeholders who provide a fresh perspective in terms of finding fits for critical positions and develop an action plan to reach out to those individuals.
For instance, if they know an employee is a reliable contributor to their team in their current role (e.g., a marketer who helped generate lots of leads, a sales rep who closed a lot of high-value deals) and gets rave reviews from their manager, that's a strong sign they're worth engaging in terms of internal-mobility options.
Focusing on this type of internal recruiting doesn't mean your TA specialists can't publish job postings to popular and proven job boards where they routinely source high-quality external talent who are seemingly good skills and cultural fits. Rather, it means they simply have yet another sourcing avenue they can explore.
"Given market conditions, our hiring teams at Lever have pivoted some roles we previously intended to fill externally to focusing on filling those positions with internal candidates who are looking to continue to grow their career at the company," Lever Sr. Recruiter Ash Mullan noted.
"These internal hires require less ramp-up and training, as they already have familiarity with the business. It also showcases to all 'Leveroos' that the organization promotes internal mobility and fostering professional development as part of the culture."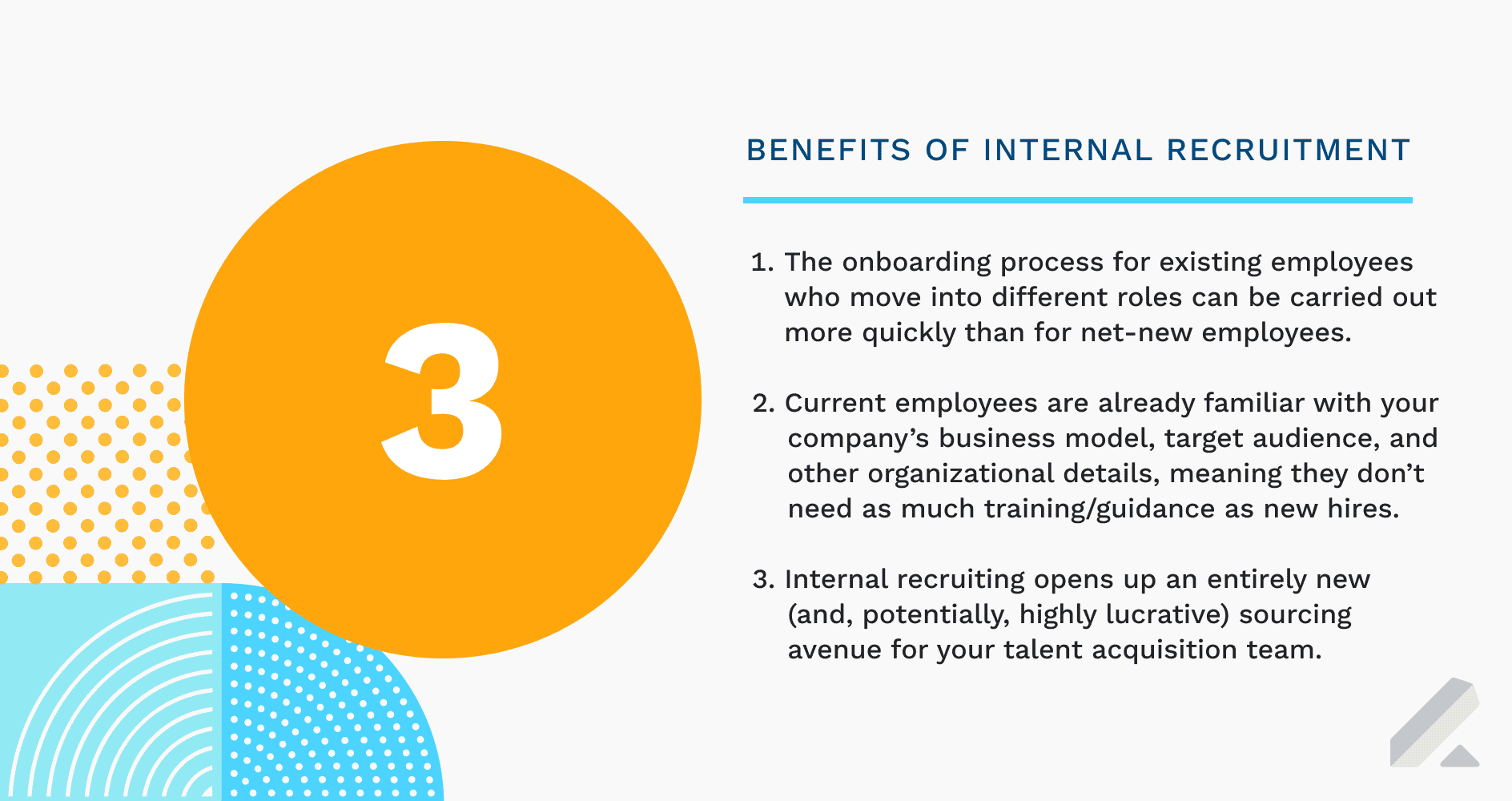 3 main advantages of internal recruitment
Internal and external recruiting both have their advantages and disadvantages. Here are a few key advantages of sourcing and hiring from within your business to know.
1) Onboarding existing employees in new roles can be done quickly and efficiently.
While formal training for their new roles is certainly a must, the onboarding process can be completed considerably quicker, compared to those for net-new employees, who (rightfully) need time to get acclimated to their new positions and teams as well as the company at large (e.g., understanding the org chart and who does what).
2) Current members of your workforce already know your business inside and out.
Those who already work at your company know the business model, mission statement, target audience, organizational goals, and competitors (at least to a modest degree).
This puts these individuals in a position to hit the ground running in their new roles on day one.
Not every employee you consider will be fully knowledgeable about your business top to bottom. But they're likely to have a strong understanding of your company's products and/or services, which gives them a leg up on external candidates who need time to learn the ropes.
3) Internal recruitment can help bolster (see: expand) your company's talent pool.
The biggest advantage of internal recruitment for your TA team is having even more job candidates to consider for requisitions and roles they need to close swiftly.
The math is simple: Assessing in-house staff members in addition to passive and active talent outside the org means more people for recruiters to evaluate and potentially engage for roles.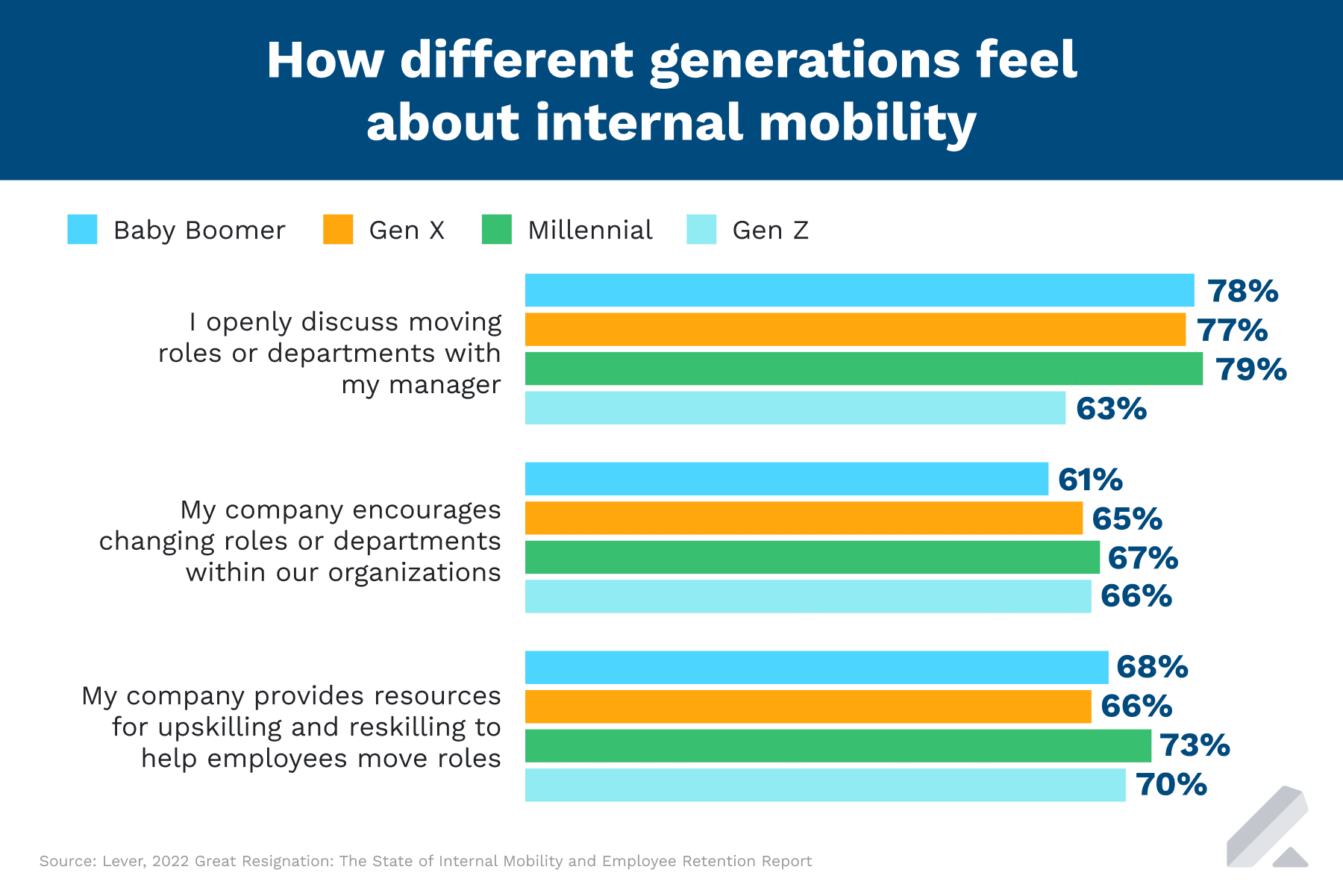 How to recruit internally (and effectively)
You understand the value of internal recruitment and how it can enhance your hiring process. (Not to mention help your business build a more diverse workforce.)
But if you lack tech that helps you create and update profiles for internal (and external) prospects, advance and archive them, and collect feedback from hiring stakeholders with ease, finding worthwhile candidates and discerning their suitability for roles will be hard.
Consider Lever customers:
They get a holistic view of their pipelines from the Candidates screen. That includes the origin (applied, sourced, agency, referral, university, and — you guessed it — internal) for all prospects.
By clicking into internal candidates, they can see who's a legit opportunity (i.e., an employee who fits the bill for a role) quickly by combing over the comments shared by hiring stakeholders for those workers from when they were initially interviewed.
Lever customers can also sync the workforce analytics from their HR team (via an integration with their HCM software, like ADP Workforce Now) to get further insights into specific staff members' work performance (from both a qualitative and quantitative perspective) to inform their internal recruitment decision-making.
Once a current employee has been identified as a good fit for a role, recruiters with Lever can send an email to them (with the hiring manager's approval, of course) right from our ATS + CRM solution.
"Internally, we're building out our talent mobility," Coupa Sr. Director of Global Talent Operations Genil Washington, a Lever customer, said in our recent case study. "The same thing is true for our internal candidates — our employees. We want to make sure that they have a great candidate experience, too."
Recruiting externally is likely always going to be your first priority when new reqs open up. That said, you can certainly benefit from regularly evaluating your employees to determine if they have the skills, knowledge, and willingness to take on new roles at your org.
Download our in-depth internal mobility guide to learn how your business can better retain (and satisfy) top talent by providing clear career paths for everyone in your workforce.