Transform your talent acquisition strategy with LeverTRM™
LeverTRM empowers Talent Acquisition teams to work smarter, not harder.
Our complete ATS + CRM solution with rich talent analytics helps hiring stakeholders improve their sourcing, nurturing, and interviewing practices. It also enables them to evaluate and improve their DEI, candidate experience, and overall recruiting efficiency using robust, dynamic dashboards and stunning data visualizations.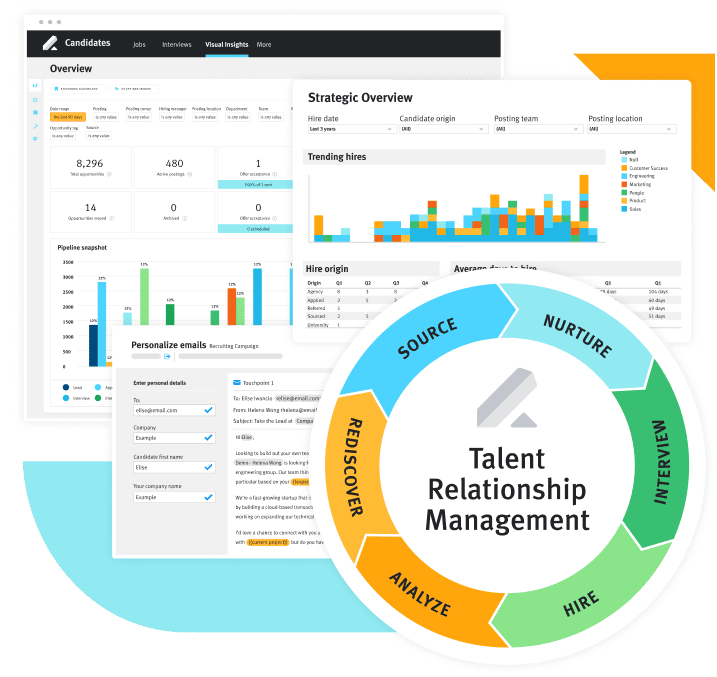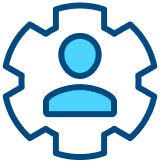 LeverTRM
Lever's cloud-based Talent Relationship Management (TRM) platform empowers companies and industries of all sizes to improve their hiring.
From sourcing high-quality candidates to nurturing relationships with passive talent, to quickly measuring recruiting performance, LeverTRM helps talent teams significantly streamline their efforts to attract top talent, collaborate during the recruitment life cycle, and scale their business as desired.
---
Powerful Applicant Tracking System Functionality
Candidate Relationship Management Capabilities
Out-of-the-Box Talent Analytics and Visual Insights
Custom Reporting for DEI, Hiring Speed, & More
View of Talent Pipeline for Hiring Team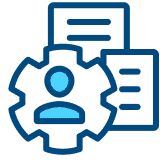 LeverTRM for Enterprise
LeverTRM for Enterprise offers advanced features and functionality that organizations and talent teams need to scale their hiring.
Whether you have regional high-volume hiring needs or want to scale globally, LeverTRM for Enterprise can help build a world-class team. Our scalable, customizable, and secure solution empowers high-growth companies to collaborate efficiently and effectively and win the race for top talent — especially in times of market uncertainty.
---
Includes everything in LeverTRM, plus:
Advanced Automation Solution Add-On
Advanced HR Solution Add-On
Data Explorer
Solution Add-Ons
Our packaged Solution Add-Ons help talent teams eliminate redundant and manual tasks, enhance new-hire onboarding, engage top talent with personalized and timely outreach, and access actionable insights regarding every facet of their hiring practices.

Advanced Automation
Automate common recruiting and hiring workflows using filters, rules, and triggers to improve your talent team's efficiency and productivity. Leverage integrated business tools to streamline the candidate journey from
start to finish.

Advanced HR
Refine the requisition and offer management processes with approval logic and dynamic workflows to ensure a smooth, seamless transition from candidate to new employee.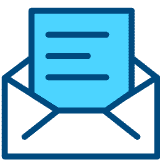 Advanced Nurture
Personalize your outreach at scale and better engage and convert qualified candidates in your pipeline. Our next-level nurture capabilities make it easy to send well-timed, high-touch messages to passive job seekers.

Advanced Analytics
Take your talent analytics maturity to new heights. Take advantage of sophisticated, user-based dashboards to drive visibility for all stakeholders, and leverage the Data Explorer to build and save custom reports and visualizations.
Platform
LeverTRM
LeverTRM for Enterprise

/year

/year

Reporting, Analytics & Visual Insights

Our rich, dynamic dashboards in Visual Insights help you make smarter, data-backed recruiting and hiring decisions.

Diversity, Equity, & Inclusion Solutions

Use our DEI surveys to realize more equitable and inclusive hiring practices and track progress with the diversity of your pipeline and hires.

Access to Lever's Integration Ecosystem

Get access to our expansive ecosystem of integration partners, which features more than 300 tools hiring teams use to succeed today.

Developer-Friendly APIs & Webhooks

Set up custom webhooks and APIs in LeverTRM to sync other essential recruiting and hiring tools.

Security & Performance (>99.9% Uptime)

Forget about downtime. Our ISO 27001 certification and >99.9% platform uptime ensure that our platform is available for your team and that we have the right processes to protect your data and information. View our ISO 27001 certificate.

Global Compliance & Data Privacy Regulations

Stay compliant with Data Privacy laws (including GDPR, CCPA, PIPEDA, etc).

Single Sign-On

Use our SAML-based single sign-on (SSO) functionality to log in with one set of credentials, which helps you log on fast and work securely.

Mobile

Lever-hosted job postings, career sites, and candidate self-scheduling emails are optimized for all mobile devices, ensuring a high-quality experience for all.

Global 24/7 Support

Lever provides 24/7 live support for all issues.

Localized Job Postings

Designate a specific city, state, or region for your Lever-generated job postings and denote which openings are on-site, hybrid, and fully remote roles.
ATS
LeverTRM
LeverTRM for Enterprise

/year

/year

Job Posting & Advertising

Amplify the reach of your openings by using connections with LinkedIn, Indeed, and other popular and niche job boards.

White-labeled Career Site

Develop a white-label, customized career site with an intuitive UI/UX, custom application questions, and a seamless applicant experience.

Candidate Experience

Curate a best-in-class candidate experience, including hyper-personalized automated messages, a frictionless application process, and self-scheduling capabilities.

Resume Parsing

Parse vital resume information from candidate submissions including candidate contact information, work history, skills, and more for over 25 supported languages.

Applicant Screening & Fast Resume Review

Simplify your recruitment cycle by screening active candidates at the top of your funnel faster and more efficiently.

Referrals

Leverage the talent networks of your organization's employees with streamlined referral submission processes and trackable social referral links.

Internal Mobility

Identify highly qualified internal candidates using robust boolean search and provide an internal career site to keep employees informed of current growth opportunities, and collect internal applications.

Agency Hiring

Effortlessly manage candidate submissions from agency partners through dedicated portals and provide timely updates through automated daily status reports.

Hiring Manager Collaboration

Empower recruiters and hiring managers to engage, interview, and advance top talent and consolidate their candidate feedback all in LeverTRM.

Interview Planning & Structured Interviews

Develop structured interview processes that ensure your hiring teams can provide a cohesive candidate experience and make unbiased hiring decisions.

Integrated Scheduling & Candidate Self-Scheduling

Sync your hiring team members' calendars with LeverTRM to simplify interview scheduling, and enable candidates to self-schedule with Easy Book.

Remote & Video Interviewing

Connect your video interviewing tool(s) with LeverTRM so your talent team can add remote and one-way interview links in invites to candidates of interest.

Task Management

Stay on track with call-to-action buttons, and customizable notifications via email, messages, or in-app reminders of pending to-do items.

Offer Management

Customize your job offer management and approval processes to align with your existing business processes.

Requisition Management

Manage all requisitions from a centralized location, design configurable approval workflows, and create custom requisition fields and templates.

Confidential Hiring

Facilitate hiring for sensitive roles using LeverTRM's access controls that ensures certain postings (and candidates tied to them) are not visible.
CRM
LeverTRM
LeverTRM for Enterprise

/year

/year

Multi-Channel Sourcing

Connect to the most popular job boards and career communities with LeverTRM to empower recruiters to source a high volume of high-quality candidates.

Dedicated Sourcing Pipeline

Track sourcing activity with a dedicated pipeline for passive candidates that uses automated stage progression to advance candidates based on your outreach.

Single Candidate Record

Access one single record for every candidate with details on every interaction and job opportunity that the candidate has been considered for in the past, including application questions, interview feedback, notes, emails, and more.

Automated, Multi-Touch Email Campaigns

Set up automated email drip campaigns to passive candidates in your pipeline.

Searchable Talent Database

Hire faster by resurfacing existing candidates in your database whose skills and experiences are a strong fit for open and upcoming roles.

Intelligent Recommendations to Rediscover Talent

Resurface high-value candidates you previously engaged using Lever's proprietary algorithm for identifying top talent.

Chrome Extension

Build and engage your pipeline of passive talent by pulling candidate information from sourcing sites directly into Lever and initiating contact from our Chrome Extension.
Integrations
LeverTRM
LeverTRM for Enterprise

/year

/year

Email & Calendar

Sync your emails and calendars to LeverTRM – including Microsoft Office 365 and Google Workspace – so you can ease scheduling headaches and see all candidate interactions in one place.

Job Boards Syndication

Automatically post your job listings on both well-known and niche job boards right from Lever to widen the exposure of your open roles.

LinkedIn Recruiter

Spend less time on manual data entry and more time proactively sourcing by using our one-click integration to export candidates directly from LinkedIn to Lever.

Sourcing

Take advantage of our integrations with candidate sourcing tools to connect with premier job prospects across channels and sync their data and details to dedicated candidate profiles in Lever.

Video Conferencing

Schedule, host, record, and share video-based interviews easily through direct integrations with video conferencing tools.

Recruitment to HR

Streamline the recruiting to HR process by connecting Lever to your HRIS tool.

Background Check

Incorporate the background check process into your recruitment workflow in Lever through integrations with background check vendors.

Onboarding

Hand off new hires to your HR team to help kickstart the onboarding process by connecting onboarding tools with LeverTRM.

Candidate Assessment

Use both general and role-based assessment tools that connect directly with our TA suite to evaluate candidates' skill sets and expertise against your hiring criteria for open positions.

Recruiting Coordination & Scheduling

Streamline advanced interview scheduling processes with scheduling integrations.

E-Signature

Send and capture electronic signatures on offer letters, NDAs, and other official documents through integrations with e-signature providers.

Communication

Stay on the same page with your hiring team by using communication tools that integrate seamlessly with Lever and connect with candidates of interest using integrated SMS/texting tools.

Custom Integrations

Create custom integrations with our open API or leverage our professional services team to build custom integrations to your exact specifications.

Business Intelligence

Automatically feed ATS data into your business intelligence system or data warehouse for advanced analytics with blended data insights.
Analytics & Reporting
LeverTRM
LeverTRM for Enterprise

/year

/year

Visual Insights

Access up-to-date and robust insights — our curated dashboards are built from customer insights and industry best practices.

Schedule & Send

Schedule and send specific dashboards with internal stakeholders to ensure they are always equipped with the recruiting insights they need.

Time To Hire Calculation Configuration

Configure your TTH calculation to your business by defining the start and end points in the recruitment journey that you want to measure.

Time To Fill Calculation Configuration

Configure your TTF calculation to your business by defining the start and end points in the requisition lifecycle that you want to measure.

Visual Insights Dashboards

Overview Dashboard

Get a high-level view of your most important talent data in a single location.

Postings Dashboard

Monitor activity associated with postings, including how long it takes to fill roles and the status of each posting.

Pipeline Dashboard

Better understand your recruiters' efforts to move candidates through your funnel and identify opportunities for improvement.

Interviews Dashboard

Track your interview scheduling, feedback, and volume data, all in one place.

Sources Dashboard

Learn how talent enters your pipeline and the quality of each recruiting source.

Offers Dashboard

Gain insights into metrics like offer volume, acceptance rate, and time to accept.

Compliance Dashboard

Ensure your entire team handles candidates' data requests in a timely manner.

EEO and Diversity Dashboards

Based on your EEO survey or custom diversity survey results, view an anonymized, in-the-moment view of the diversity of your talent pipeline.

Talent Benchmark Dashboard

Gauge how your TA team is performing against other Lever customers with benchmark data that covers time to hire, time to fill, average time to collect feedback, and more.

Recruiting Ops Dashboard

Built for recruiters, the Recruiter Ops dashboard is personalized for each recruiter on your team so they can quickly view insights that will help them improve performance and take a data-driven approach toward hiring.

Hiring Manager Dashboard

Built for Hiring Managers, the Hiring Manager dashboard helps hiring managers track how recruiters' are progressing with filling their teams' open roles.

Talent Leader Dashboard

Get a holistic summary of your team's performance, talent pipeline conversion, and trending metrics in one single source of truth.

Candidate Survey Dashboard

Better understand the quality of your organization's candidate experience. Break down your survey results by question and response to pull qualitative and quantitative feedback that will help you improve.

Requisition Dashboard

Keep tabs on time to fill, open headcount, and requisition volume with ease.

Nurture Dashboard

Gauge the effectiveness of your personalized outreach efforts by campaign.
Advanced Automation
LeverTRM
LeverTRM for Enterprise

/year

/year

Automation Hub

Introduce more efficiency into your recruiting process with custom automation workflows that automate tedious, manual tasks.

Available with solution add-on

Knockout Questions

Automatically progress or remove candidates based on their answers to questions within the application process.

Available with solution add-on

Candidate Experience Surveys

Create custom candidate experience surveys to collect data that will help you understand your organization's candidate experience and identify areas for improvement.

Available with solution add-on

Slack Integration

Collaborate and share updates with your hiring team quickly and effectively with our Slack integration.

Available with solution add-on

E-Signature Integration

Send and capture electronic signatures in essential documents using integrations with popular e-signature providers like DocuSign and Adobe Sign.

Available with solution add-on
Advanced HR
LeverTRM
LeverTRM for Enterprise

/year

/year

Dynamic Approval Workflows

Create dynamic workflows for offers, requisitions, postings, and headcount that intelligently route to the correct individuals and streamline your approval process.

Available with solution add-on

Custom Requisition Fields

Add custom fields to your requisition form to capture information relevant to your organization's headcount planning processes.

Available with solution add-on

Post-Approval Overrides

Reduce turnaround time for common revisions and eliminate unnecessary extra steps for hiring teams.

Available with solution add-on
Advanced Nurture
LeverTRM
LeverTRM for Enterprise

/year

/year

Bulk Nurture Campaigns

Scale your nurture campaigns by selecting up to 50 candidates to send a campaign to at once.

Available with solution add-on
Available with solution add-on

Shared Nurture Templates

Promote collaboration on candidate campaigns through the creation of team campaigns that everyone on your team can leverage when reaching out to candidates.

Available with solution add-on
Available with solution add-on

Complete Nurture Reports

Compare nurture campaigns, touchpoints and sender data to uncover recruitment marketing performance across your various pipelines.

Available with solution add-on
Available with solution add-on
Advanced Analytics
LeverTRM
LeverTRM for Enterprise

/year

/year

Advanced Visual Insights Dashboards

Offers Approvals and Revisions

Track all your offer approval activity including offers sent, offers with revisions, avg. time to approve and revise offers, as well as offer revisions by each offer field.

Available with solution add-on
Available with solution add-on

Hiring Manager Pipeline Dashboard

Hiring Managers will have a full view of Archive reason trends by role, what interviews are waiting to be scheduled, what interviews are awaiting feedback, as well as all opportunities in the pipeline by posting.

Available with solution add-on
Available with solution add-on

Advanced Recruiter Operations Dashboards

Recruiters & Recruiter Managers will have improved visibility into upcoming interviews, candidate feedback statuses, and performance.

Available with solution add-on
Available with solution add-on

Data Explorer

Create custom dashboards utilizing key data sets directly in Lever with Data Explorer. Each visualization can be customized and viewed period-over-period to gauge progress over time.

Available with solution add-on

Data Warehouse Sync

Analyze your entire talent operation by combining Lever data and the data from other tools in your HR/TA tech stack with your data warehouse of choice.

Available with solution add-on
Available with solution add-on
Pricing depends on your customized bundle and how many employees you have. Contact us for a free consultation.
Award-winning recruiting software
Lever is rated a top HR software, leader in mid-market, and highest satisfaction product.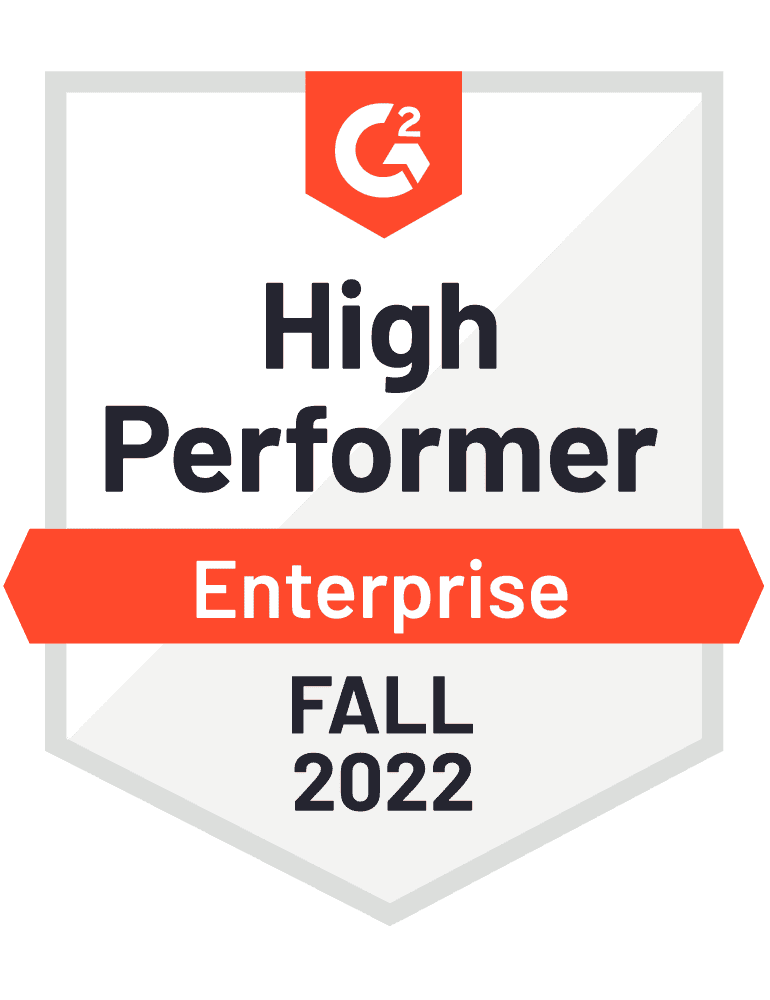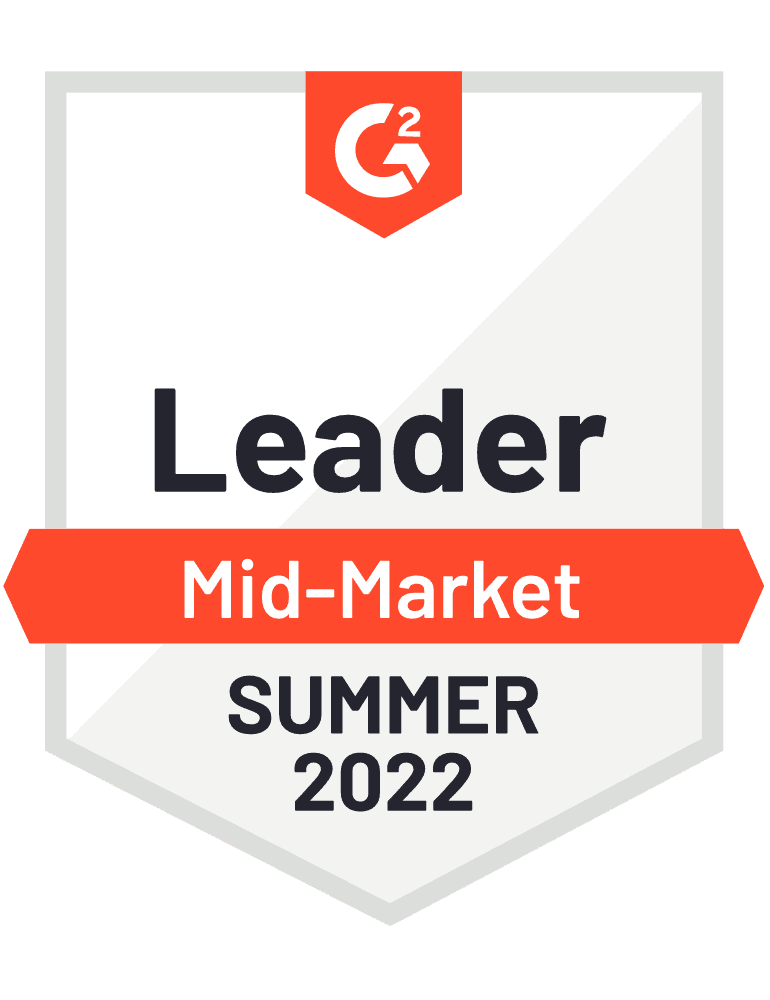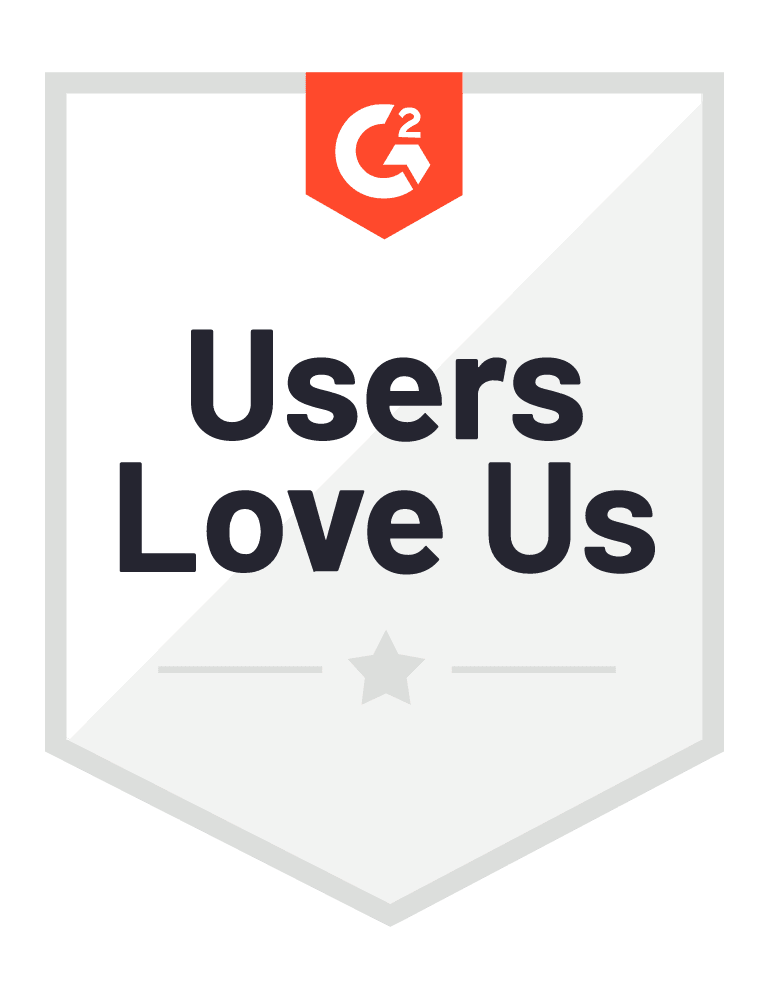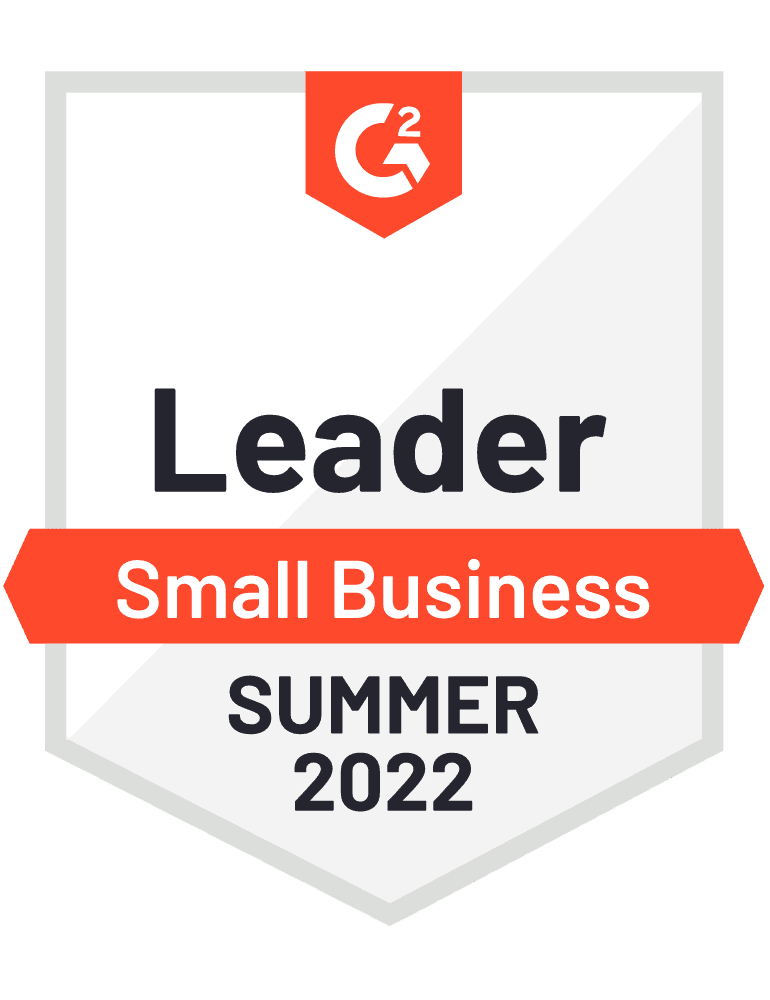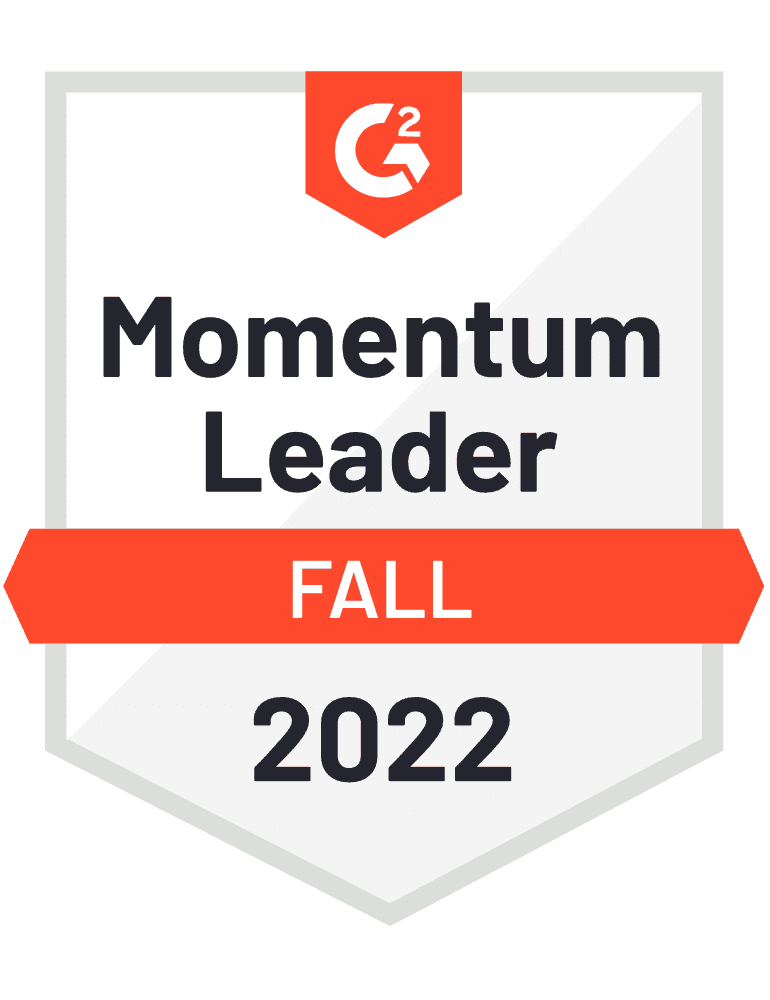 Getting started is easy
Lever offers solutions that make it even easier for talent organizations to remove the complexities and get started faster to reach their talent goals. Contact us for a complete quote on the best product and package for your company.